Omigbodun Akinrinola Oyegoke is a Nigerian politician, professional teacher, and architect. He is the founder and principal consultant of Goke Omigbodun Associates in Osogbo, Nigeria. He was formerly the Social Democratic Party's (SDP) vice-chairman. He is one of the candidates running for governor of Osun State in the July 2022 election as a Social Democratic Party (SDP) candidate.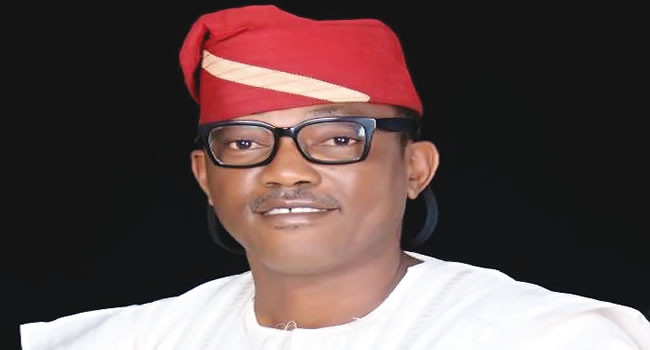 Oyegoke Omigbodun Biography
Full Name :
Omigbodun Akinrinola Oyegoke
Date of Birth :
23 February 1964
State of Origin :
Osogbo, Nigeria
Place of Birth :
Osogbo, Nigeria
Spouse :
Oyinkan Babalola Omigbodun
Occupation :
Teacher, Architect, Estate Surveyor, Politician
Social Media Handle :
Instagram: gokeomigbodun
Early Life and Education
Oyegoke was born on February 23, 1964, in Osogbo, Nigeria, to his parents, Ladunjoye Omigbodun and Regina Olatide Omigbodun. His father was the first Chairman of the Osogbo District Council and a pioneering principal at the Osogbo Grammar School. His late mother was the Old Oyo State's retired Chief Health Sister. She also held the position of Deputy Chief Health Sister for Nigeria's Western State. He was brought up in Osun State, Nigeria, together with his sister, Oyinkan Omigbodun.
Oyegoke had his education at All Saints Primary School in Osogbo. He attended Ibadan Government College for his secondary school education as well. Later, he enrolled at Obafemi Awolowo University (OAU), where he earned a B.Sc. and an M.Sc. in architecture. He proceeded on to the University of Ilorin, where he graduated with a master's in business administration (MBA). From the University of Ibadan, he also received a Master's degree in Geographical Information Systems (GIS).
Career
Omigbodun is a licenced architect, politician, estate surveyor, and valuer. In Osogbo, Nigeria, he is the founder and chief consultant of Goke Omigbodun Associates, a business that provides architectural designs, assessments, and construction management services. He is the co-founder of the Olive Branches Schools, founded in May 2003.
He served as the Chairman of the Osun State Property Development Corporation during the tenure of Osun State's former governor, Chief Bisi Akande (December 2000 to May 2003). In addition, from March 2001 to August 2003, he served as the State Programmes Monitoring Adviser (SPMA) for the United Nations Development Programme (UNDP) in Osun and as the Governor's Special Adviser on Inter-Party Relations (2008 to 2010).
Goke Omigbodun is a licensed architect with the Architects Registration Council of Nigeria (ARCON), a certified estate surveyor and valuer with the Estate Surveyors & Valuers Registration Board of Nigeria (ESVARBON), and a registered teacher with the Teachers' Registration Council of Nigeria (TRCN).
In addition to co-founding and serving as the first President of the Network of NGOs (NETNOS) in Osun State, Goke Omigbodun is also a Trustee of the ANGELS Foundation, a former Vice-Chairman of the Nigerian Institution of Estate Surveyors & Valuers (NIESV) in Osun State, a former Chairman of the Nigerian Institute of Architects (NIA) in Osun State, and an Ex-Officio member of the council of NIA. He is also a member of the Osun Development Association (ODA), a beneficiary of the Rockefeller Foundation's initiated Global Leadership for Environment & Development as a LEAD Fellow, and a Fellow of the Nigerian Institute of Architects (FNIA).
Political Career
The dynamic, forward-thinking politician has been running a campaign on restructuring, which is why he gave it the name "Yoruba e Ronu" (Yoruba think deeply). Because Obafemi Awolowo, during the old western region, was in control of cocoa money without being coerced, he wanted Yoruba to return to those times when cocoa money was used to construct Cocoa House.
To enable the devolution of additional authority and resource control to federating units and their local government areas, Goke Omigbodun has consistently and forcefully advocated for the restructuring of the Federal Republic of Nigeria. Omigbodun thinks Nigeria has to go back to a time when the state governments were in charge of their own domestic production.
Goke Omigbodun resigned as the Deputy Chairman of the Social Democratic Party in Osun State, Nigeria, to contest the Osun State governorship election. He previously held the position of Caretaker Chairman of the Alliance for Democracy (AD) in his locality of Olorunda.
Osun Governorship Debate and Manifesto
Oyegoke's governance policy is primarily focused on "Global Infrastructure and Youth Development." Omigbodun aims to use the youthful energy, intellect, and expertise of Osun to ensure a strong state economy. He wants to make Osun State the centre of Nigeria's information and communications technology (ICT) industry, which will reduce crime, engage the young, create jobs, and boost the nation's economy.
He thinks Osun youths can work in ICT-based positions and lead Nigeria's industrial revolution just like Californians led the American industrial revolution and the mass production of goods. In order to become the next governor of Osun State, he wants the youth to support him by voting for him.
He would be contesting alongside others like Adegboyega Oyetola, the incumbent governor; Ademola Adeleke; Akin Ogunbiyi; and Lasun Yusuf, among others.
Personal Life
The architect is married to Oyinkan Babalola Omigbodun, and the couple has two children together—a son and a daughter. His wife is a primary school teacher at Olive Branches School in Nigeria.
Family History and Background
His late father, Venerable Julius Ladunjoye Omigbodun, served as the founding principal of the Osogbo Grammar School and the first chairman of the Osogbo District Council, which included the present-day local governments of Osogbo, Olorunda, Irepodun, Orolu, and a portion of Egbedore. The late Ladunjoye Omigbodun was the first university graduate from the former Osun Division, making him the obvious choice to serve as the scribe and spokesperson for the Obas of that division. On October 8, 1950, he initiated and wrote the first letter to the then-Governor-General, Sir John McPherson, requesting the removal of the Osun Division from any administrative headquarters in Ibadan, beginning a protracted struggle that resulted in the establishment of Osun State in August 1991.
During the tenure of his father, electricity and pipe-borne water arrived in Osogbo. Also, the first tarred road was also constructed while his father was the Chairman of the Osogbo district council.
Oyegoke's mother, the late Iya-Abiye, Regina Olatide Omigbodun, was a trusted chief, ally, and confidant of Baba Ooni Adesoji Aderemi, the first governor of Western Nigeria. She was the daughter of the late Jagunoshin Johnson Awoyera-Awoyemi of Logun Compound, Okerewe, Ile-Ife. After serving as the deputy chief health sister of Western State in Nigeria, Mama Regina Olatide Omigbodun retired as the chief health sister of Old Oyo State soon after it was established.
Awards and Nominations
Omigbodun awards and nominations are unavailable at the time of writing this biography.
Net Worth
His current net worth is unavailable.
Social Media Handles
Instagram: gokeomigbodun