Peter Ayodele Fayose whose nickname is 'Osokomole' or Peter the rock is a Nigerian politician and the former Governor of Ekiti State. Fayose is also a philanthropist and the initiator of the Stomach Infrastructure program in Ekiti State. He is popularly known for being fearless and very outspoken about matters and issues concerning Nigeria.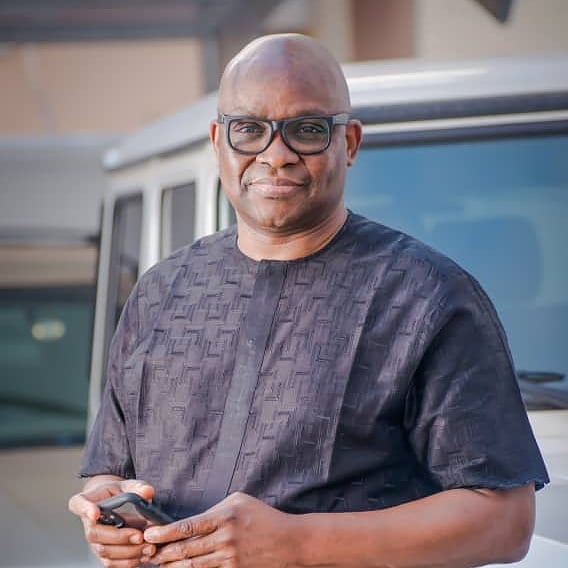 Ayodele Fayose Biography
Full Name :
Peter Ayodele Fayose
Nickname :
Osokomole or Peter the rock
Birth Place :
Oyo State, Nigeria.
State Of Origin :
Ekiti State, Nigeria.
Occupation :
Politician, Administrator, Businessman.
Spouse :
Mrs Feyisetan Fayose
Social Media Handle :
Instagram: drayodelefayose
Twitter: @GovAyoFayose
Early Life and Education
Ayo Fayose was born on 15 November 1960, he began his early education at Saint Leo's Catholic Primary School, Ibadan, in 1966 and obtained his Primary School Leaving Certificate in 1972. He proceeded to the Olivet Baptist High School, Oyo State, in 1973, where he sat for and passed the School Certificate examination in 1979. He was admitted for a one-year Pre-National Diploma (Pre-ND) program at the Federal Polytechnic, Ilaro, Ogun State, leading ultimately to a two-year Ordinary National Diploma (OND) program in Science Laboratory Technology, which he successfully completed in 1984.
He underwent his one-year mandatory industrial attachment at the Cocoa Research Institute of Nigeria (CRIN), Ibadan. He produced body and hair products during this period, naming them 'Spotless.' In 1985, Fayose was admitted for a Higher National Diploma (HND) program in Biological Sciences/Applied Medical/Biology by The Polytechnic, Ibadan, and graduated in 1987. He had his National youth service at Pepsi Nigeria Limited, Ibadan. He was engaged in the installation, maintenance and servicing of medical and laboratory equipment.
Career
Fayose worked as the chief executive officer at Spotless Investment Limited, a group of companies, from 1988 until his election as the Governor of Ekiti State in 2003.
Before his election, Fayose served as Chairman of a Facts-Finding Committee set up by the Peoples' Democratic Party and assigned to Kaduna State in 2003. He had served twice as a national delegate to the PDP national convention. Ayo came to the limelight when he became the second executive governor of Ekiti state on May 29, 2003, after defeating the then incumbent governor, Niyi Adebayo. He was impeached on 16 October 2006 but came back to contest in 2014.
During the 2014 Governorship election in Ekiti State, Peter Ayodele Fayose was again the PDP flag bearer. He won the election and was declared by the Independent National Electoral Commission as the new Governor, of Ekiti State; he was inaugurated on 16 Oct 2014, defeating Kayode Fayemi. Fayose boasts of being the only Nigerian to defeat an incumbent two times historically.
Personal life
Ayo Fayose got married to his lovely wife, Feyisetan Fayose, in 1988, the marriage is blessed with 5 handsome children, who are all boys. They are Joju, Rogba, Tomiwa, Nigba, and Boluwatife. Feyisetan is four years younger than him – she was born in 1964. She is a human rights activist, as well as a generous philanthropist. She is especially concerned about female rights.
Controversies
Allegation Of Vote Rigging
An army intelligence officer, Captain Sagir Koli of the Nigerian Army 32nd Artillery Brigade, secretly recorded a vote-rigging plan on June 20, 2014, when he was asked to accompany his then commanding officer, Brigadier General Aliyu Momoh, to a meeting at Spotless Hotel in Ado-Ekiti, Ekiti State. The 37-minute audio recording which was released was attended by the eventual "winner" of the election, Governor Ayodele Fayose of Ekiti State; Senator Iyiola Omisore of Osun State; a member of the National Assembly Abdul Kareem; the Minister for Police Affairs Alhaji Jelili Adesiyan; the former Minister for Police Affairs and navy captain Caleb Olubolade; the Minister of State for Defense Senator Musiliu Obanikoro and PDP Anambra chieftain Chris Uba, as they bribed army Brigadier General Momoh with a rank promotion for his assistance in carrying out election fraud in Ekiti State.
For exposing the vote-rigging of the Ekiti State gubernatorial election of Fayose, Captain Sagir Koli was praised by the military for his "non-partisanship and professional conduct during the election period.
Travails With The EFCC
The Economic and Financial Crimes Commission froze four Zenith Bank accounts allegedly used by Fayose to launder money for his Ekiti governorship election in 2014 in a lawsuit no. FHC/CS?871/2016 titled "Federal Republic of Nigeria Vs Zenith bank PLC account numbers 1003126654, 9013074033, 1010170969 and 1013835889."
The Judge, Justice Mohammed Idris granted the EFCC on June 24, 2016, an order to freeze all the funds in the said accounts in Zenith Bank. Two accounts belong to Governor Ayo Fayose while the third belongs to his hotel, Spotless Hotel in Ado Ekiti. The fourth account was operated by one of Fayose's aides, Abiodun Agbele, who is under EFCC custody.
The EFCC had alleged that those accounts possessed funds, said to be about N4.7 billion (US$20mn) stolen from the office of the National Security Adviser, with most of the money secretly retained by Fayose for his personal use after the election. Ayo Fayose was fingered by former Nigerian Minister of State for Defense, Musiliu Obanikoro as one of the beneficiaries of the $2.1billion arms deal scandal, which saw the illegal diversion and theft of funds that were allegedly appropriated to fight the Boko Haram insurgency.
Fayose is alleged to own a radio station, Our People's FM, on 104.1 MHz in Ado Ekiti. The station was forcibly seized for a time in 2019, allegedly due to land use violations, though political considerations were also mentioned.
Challenged Aisha Buhari To Travel To the USA
On June 22, 2016, Fayose had claimed that Aisha Buhari, the wife of the Nigerian President, Muhammadu Buhari was the same person (who had claimed to be a daughter of General Muhammadu Buhari) indicated by a US Court for transferring $170,000 to indicted US Congressman, Williams Jefferson, in the William J. Jefferson corruption case involving Halliburton and that she was avoiding arrest by US authorities by failing to accompany her husband on his three presidential visits to the United States.
However, when Aisha Buhari travelled to Washington DC on August 4, 2016, Fayose subsequently claimed that her US visit did not invalidate the Haliburton judgement against her.
Awards and Nominations
Ekiti State "Leaders in Achievement" Honour Award (2002)
Doctor of Public Administration (Honoris Causa) University of Ado-Ekiti (2004)
Fellow of the Polytechnic Ibadan (FPI) 2005
Most Distinguished Alumnus of the Faculty of Science of the Polytechnic, Ibadan (2005)
Outstanding Governor of the year 2004 by the Ekiti Kete Association in North America (EKAINA)
Ekiti State "Leaders in Achievement" Award 2002
Captain of Reform Agenda for the Grassroot
Best Governor of the Year 2004 by the PDP, U.K. Branch
Most Practical Governor in the South West (2005)
Best Governor in the South West 2005 by the Global Excellence Magazine, Lagos
Best Governor Nigeria 2006 by the City People Magazine, Lagos.
Net Worth
Ayodele Fayose is known to be financially buoyant being the CEO of Spotless, but his net worth estimate is not known.
Social Media Handle
Instagram: drayodelefayose
Twitter: @GovAyoFayose