Okuneye Idris Olarenwaju, popularly known as Bobrisky, is a cross-dresser who has also denied public claims of being gay. He is also known on social media for his controversial nature as he poses himself as a transgender person and a Nigerian male Barbie.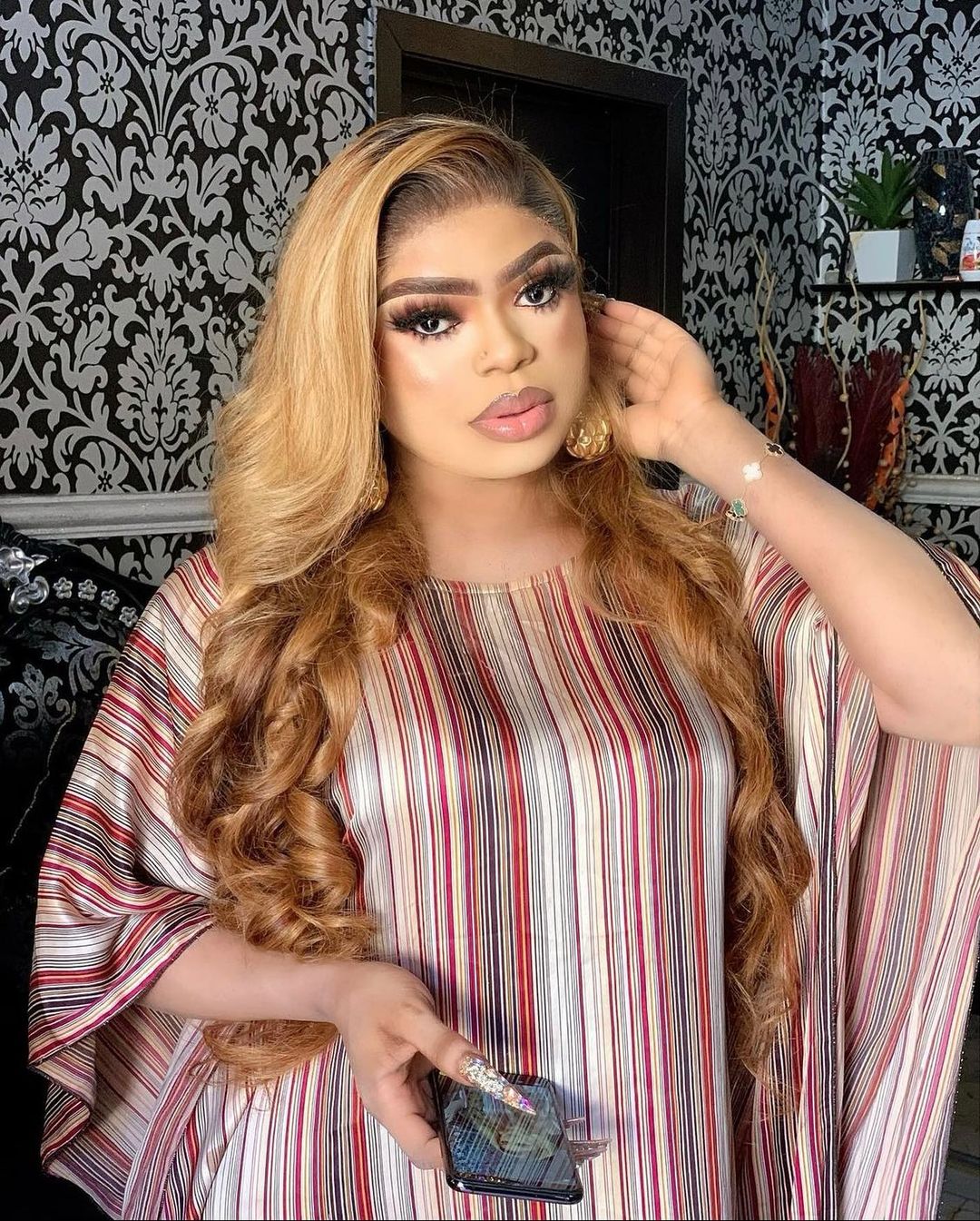 Bobrisky Biography
Full Name :
Okuneye Idris Olarenwaju
Occupation :
Entrepreneur
State Of Origin :
Ogun State, Nigeria
Place Of Birth :
Lagos State, Nigeria.
Parent :
Alhaji Musibau Okuneye
Social Media Handle :
Instagram: bobrisky222
Snapchat: bobrisky222
Twitter: bobrisky
Early Life and Education
Bobrisky was born in Ebute Metta, Lagos, Nigeria, on August 31, 1992. Okuneye Idris Olarenwaju is his given name. He grew up in a polygamous family, with his father having 3 wives, and he happened to be the youngest child. He began fending for himself when he turned 16, and his mother used to punish him for his feminine tendencies when he was a child, but he still went on to become a controversial personality at college and university due to his fashion sense.
He received his secondary school education at King's College, Lagos State, where he earned his first school leaving certificate and the West African Senior School Certificate. He then went on to the prestigious University of Lagos, where he earned a Bachelor of Accounting degree.
In his university years, Bobrisky would don women's clothing and deceive men in clubs and pubs, but he would always decline when an admirer indicated a desire for intimacy. He was renowned as a very good makeup artist throughout his time at UNILAG.
Career
While still a student at university, Bobrisky began his profession as a He used to work as a choreographer. He made money by teaching people how to dance. He also went to a number of dance events. He was named Best Dressed Male at his school, and he quickly rose to prominence in school. Bobrisky established his first company in Ikeja, Lagos, where he opened a beauty store. He also used his fashion sense to go into the business of purchasing and selling garments.
He went into the fields of beauty therapy and makeup artistry full-time. He dressed strangely as part of his business strategy to attract predominantly female consumers to his store. Bobrisky rose to prominence as a result of her Snapchat account, where she posted a slew of contentious and viral videos.
Selling $400 worth of 'Bobrisky Bleaching Cream,' filming short video clips, selling items in his boutique, serving as a brand ambassador for multi-million firms, and hosting events are just a few of his ventures.
Personal Life
Bobrisky grew up in a polygamous household because his father had three marriages and he was his mother's final child. His mother has a fair complexion and appears to be enthusiastic about her son's beauty company. Before their friendship fell apart, he was an excellent buddy of Tonto Dikeh.
We are unable to reveal their relationship because it has yet to be confirmed. He hasn't yet tied the knot.
Prior to his complexion shift, the Snapchat celebrity's skin tone was similar to that of most Nigerians, until he turned white. He seems unconcerned by sexual rumours or wasting time responding to criticism. She is incredible. His supporters are eager to learn who his sweetheart is. His mystery lover, whom he claims is Africa's fourth wealthiest man, gifted him N7 million and a Mercedes-Benz.
Cross-dressing Lifestyle and Gender
The question about his gender has raised questions over the years, and it has continued to plague him. Bobrisky was born a man and identifies as a transgender person. Bobrisky has shown his preference for being referred to as "her and she, rather than him or he." Many have speculated that Bobrisky has had surgery to transform into a woman, although he has stated in multiple interviews that he has no desire to physically transform into a woman. He says Bobrisky is a "character," not a girl.
He started looking different from his days in school by dressing differently before he became a social media sensation and celebrity. It's a character he has invested in. In May 2019, Bobrisky was photographed wearing a faux silicone breastplate, which is popular among drag queens. While Bobrisky has used the term "transgender" in his Instagram captions on occasion, he is not known to have undergone any permanent gender transitions. Bobrisky keeps people guessing about his sexuality. Nigeria has strict LGBT laws that may land him in prison for 14 years.
Bobrisky presented a new physical look on July 8, 2021, after getting surgery to become more feminine. She has also counselled aspiring transgenders to undergo suitable surgical augmentation operations so that they can be the person they truly desire.
Controversy
Bobrisky's Sexuality
He was detained by the Lagos State Police Command in Lekki immediately after publicly announcing his homosexuality. Despite the fact that his arrest suggests he was detained as a result of a petition filed against him by a competitor and an entrepreneur, Toyin Lawani, Bobrisky claims he was arrested as a result of a petition written against him by a rival and an entrepreneur Toyin Lawani.
Birthday Party
Another was when Bobrisky threw a birthday celebration that didn't go according to plan. His birthday celebrations took place in Pearl Gardens in Lagos State, Nigeria. The party was disrupted and shut down by the Nigeria Police Force, which included several Nigerian celebrities, gays, and cross-dressers. He chose to depart the country after the police shut down of the event.
She Claims That Her Mother Is Dead.
Bobrisky took to Instagram to celebrate her mother on Mother's Day as being dead. When it was revealed that her mother is still alive and well, the online personality found herself in even more hot water. This contradicts what she said about herself before. Bobrisky's mother, Alhaja Bollington, was supposed to have passed away a long time ago, according to her claims that her mother died in 2008 while she was on her way to Hajj. It was eventually discovered, however, that it was all a deception and that she was still alive and well.
Bobrisky vs. Ismaila Mustapha (a.k.a. Mompha)
Bobrisky sparked even another debate when one of her personal assistants, Oye Kyme, revealed her 'dirty secret': her purported relationship with prominent social media influencer Mompha. While the crossdresser may have sat back and enjoyed the public spectacle surrounding her name, she claimed her partner reacted quickly, threatening to sue over the charges. Mompha also denied having an affair with Bobrisky, sharing screenshots of her communication with Kyme. He stated that he was married and didn't deal with homosexuals.
Bobrisky vs. Daddy Freeze
Her spat with controversial OAP, Ifedayo Olarinde, also known as Daddy Freeze, was also one of her most well-known disputes. The incident began when the Nigerian-Romanian broadcaster published a video of himself playing with his son on social media, where he is also known for preaching and ridiculing men of God. In the video, his son asks him not to wear his mother's shoes, to which Freeze responds that he won't since he isn't Bobrisky.
Freeze was swiftly rebuked by Bobrisky, who referred to him as a "dumb he-goat" who is always trying so hard to get her attention. Bobrisky also mentioned that she was unaware of Freeze's existence. Bobrisky was also called a used tampon, a bleached brain, and an inanimate object by Freeze.
Bobrisky vs. Sabinus (Mr. Funny)
The controversial Nigerian crossdresser threatened to arrest Sabinus after he called her senior man on Facebook. He said, "Senior man, your face show and your shoe shine" when he reacted to Borisky's post about enjoying her money "I don't have a single problem like this, let me just keep enjoying my money the ones my boyfriends give me too once in a while" This remark appears to have upset Bobrisky, who retorted angrily to the comedian, claiming "Mr. Funny Na your papa be senior man, I will soon detain you."
The Bobrisky Housewarming Saga
A viral video on social media shows Muslim clerics praying at the housewarming ceremony of Idris Okuneye, better known as Bobrisky, the infamous crossdresser.
According to a video released on Sunday, 18th of June, Bobrisky was seated and fully clad in female Yoruba traditional attire, surrounded by Muslim clerics who sat on the floor and said Islamic prayers.
Nigerians and Twitter users have slammed the footage, criticising the presence of clergy at the crossdresser's event. They saw it as a religious embarrassment.
Net Worth
Bobrisky is one of Nigeria's wealthiest and most talked-about beauty therapists, with an estimated net worth of $4 million.
Social Media Handle
Instagram: bobrisky222
Snapchat: bobrisky222
Twitter: bobrisky