Favour Oghene Tejiri Ashe also known as "Ashe Bolt", is Nigeria's fastest man, clocked at 9.99s to win the 100m title. He was born and hailed from Ughelli, Delta State, Nigeria. Ashe attended Otowvodo Grammar School in Ughelli and is currently a freshman at the University of Tennessee, USA. He made history by becoming the first athlete from MoC Track Club to run a World Lead at any time, barely one year after joining the club.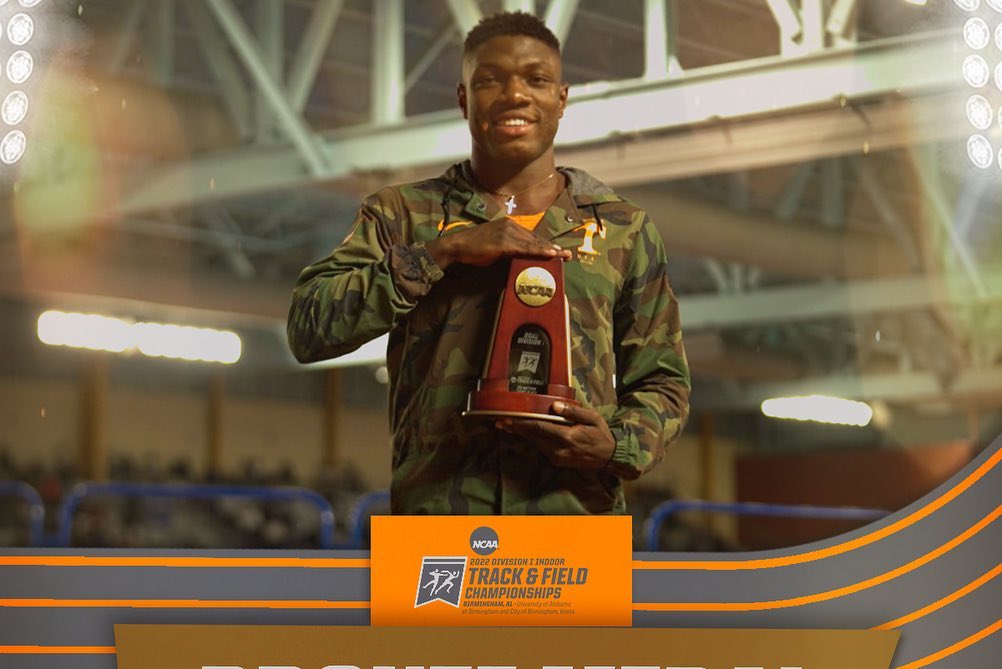 Favour Ashe Biography
Full Name :
Favour Oghene Tejiri Ashe
Date of Birth :
28th April 2002
Place of Birth :
Ugheli, Delta State, Nigeria
State of Origin :
Ugheli, Delta State, Nigeria
Profession :
Athlete (Sprinter)
Social Media Handles :
Instagram: nigerian_nightmare__
Twitter: @ashe_favour
Early Life and Education
Favour Ashe was born on the 28th of April, 2002. He's from Ughelli in Delta State, Nigeria. He attended Otowvodo Grammar School, Ughelli, Delta State, and is currently a freshman at the University of Tennessee, USA. He is an athlete at the Moc Track Club.
Career
Ashe happened to be the second athlete in the MoC Track Club, while the first was Favour Ekpekpe, who joined in 2017. Ashe is indeed favoured, as he begins the arduous task of climbing to the pinnacle of his athletic career. Ashe was one of the athletes chosen to join the MoC Track Club for the 2019 season after performing well at the MoC Athletics Trials held in Ughelli in 2018.
Ashe successfully won his 100-meter heat at the 2019 National U18 & U20 Trials in Ilaro, Ogun State, and advanced to both the Boys' 200-meter Final A and Final B. The gifted sprinter performed admirably in his first appearance at the MoC Grand Prix, winning his 100-meter heat. Favour went on to set two personal bests in the men's 100-meter race at the National Championships, making an outstanding debut. In order to finish his season on a high note, he improved his personal best time to 10.77 seconds to place second in his heat and even faster to 10.72 seconds to settle for sixth place in the semifinals.
When he won his 100-meter heat at the AFN All-Comers in Akure in February, breaking the entry requirements for the World U20 Championships in Nairobi, he set a new personal record and kicked off 2020 in spectacular fashion.
At the Lagos State Trials for the National Sports Festival, he also placed in the top three in the 100 and 200 metres. Ashe eagerly anticipates competing for Nigeria at the postponed 2021 World U20 Championships in Nairobi.
Ashe kicked off the indoor circuits in the early part of 2022 with a bang, by setting a lightning-quick Personal Best (PB) of 6.58 seconds for the 60-meter sprint. Then, at the Indoor National Championships in Birmingham, he lowered his personal best time to 6.51 seconds, moving him into a tie for fourth place with Davidson Ezinwa on Nigeria's all-time list. The twenty-year-old sprinting prodigy, Favour Ashe, won the national 100-meter championship in 2022 and earned a spot in the world championships.
Ashe defeated a strong field, including Alaba Akintola and multiple national champion Seye Ogunlewe, to win at the Samuel Ogbemudia stadium in Benin City, Edo State, with a new personal best time of 9.99 seconds.
After clocking a wind-aided 9.79 seconds on the American Collegiate circuit, the University of Tennessee freshman set a new legal record. At the NCAA Championships, he also won silver.
At the 2022 Commonwealth Games, Favour, alongside Onwuzurike Udodi Chudi, Akintola Alaba Olukunle, and Ekevwo Raymond, won the bronze medal in the men's 4 x 100m relay race.
Net Worth
His net worth is estimated at $55,000.
Social Media Handles
Instagram: nigerian_nightmare__
Twitter: @ashe_favour