Jesse Garba Abaga (born August 10, 1984), known professionally by his stage name Jesse Jagz, is a rapper, music producer, and songwriter from Nigeria. In 2010, he inked a record deal with Chocolate City, and the following year, Jag of All Tradez, his debut studio album, was released. In 2013, he voluntarily ended his contract with Chocolate City and announced the opening of his own independent label, Jagz Nation.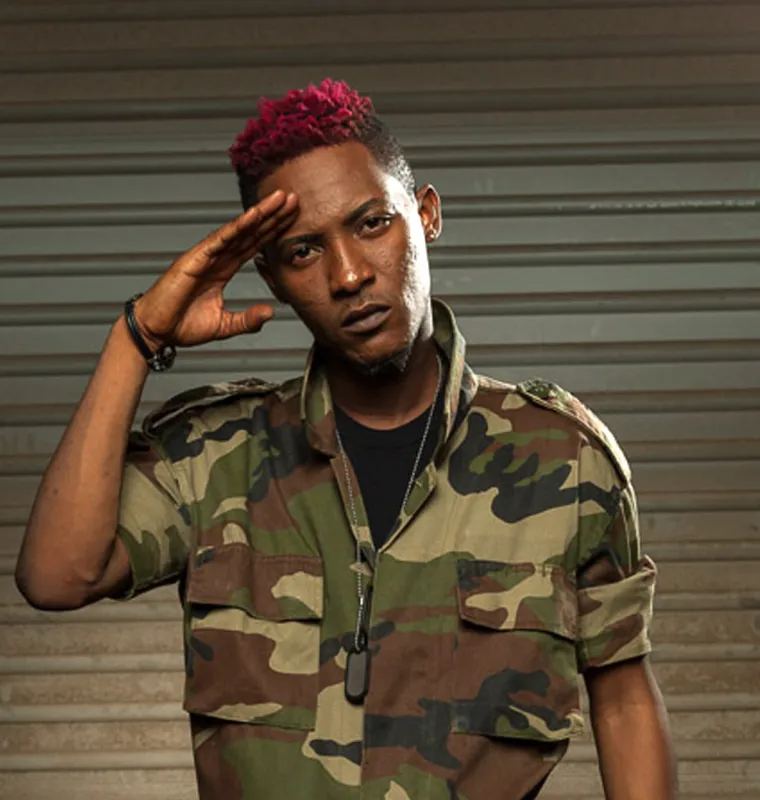 Jesse Jagz Biography
Full Name

Jesse Garba Abaga

Stage Name

Jesse Jagz

Date of Birth

10 August 1984

Nationality

Nigerian

Place of Birth

Jos, Plateau State, Nigeria

State of Origin

Taraba State, Nigeria

Spouse

Tolu Abaga

Genres

Hip hop, reggae, dancehall

Occupation(s)

Rapper, Record, Producer, Songwriter

Active Years

2003–present

Net Worth

$2 million

Social Media Handles

Instagram: jessejagz
Twitter: @Jessejagz
Early Life and Education
Jesse Garba Abaga was born on August 10, 1984, to Chris and Lydia Abaga in Jos, Plateau State. He originally hails from the Jukun ethnic group in Taraba State, Nigeria. His mother is a gospel singer and counsellor, while his father is a pastor. At the age of seven, he joined the choir at his church, and on his parents' drum set, he eventually learned to play the drums. His elder brother, Jude Abaga, popularly known as MI, is also a musician.
Career
Gospel Insanity, the group Jesse made his debut album with, failed to find popularity, and they disbanded. Eleven Thirty, a new band he started, was an immediate hit in Jos. In 2004, he linked up with his brother M.I., and together they started the Inner Hub Studios. By 2006, he had a thriving music career and his hit song, "Africa," spent months at the top of the Cool FM chart. Street anthems in and around Northern Nigeria emerged as a result of Jesse's three songs simultaneously dominating the top ten charts on RayPower FM, Cool FM, and Rhythm FM between 2006 and 2007.
His other top hits included "Nobody Test Me," "The Greatest," "Sugar Cane Baby," and "Bend Down Low." His record was chosen to appear on the 2008 International Music Entrepreneur of the Year (IYMEY) compilation. Jesse Jagz was chosen in February 2009 to represent Nigeria in the 2009 Sauti Za Busara Music Festival, and his debut music video, "Pump It Up," was also released that same year in November. The smash song "Nobody Test Me," which also included his brother M.I and fellow musician Ice Prince Zamani, was a great success.
Banky W, Ice Prince, M.I., Djah Djah (def jam poetry), Kel, Majek Fashek, Modenine, Faze, Tosin Martins, Djinee, Silver Saddih, Pherowshuz, Shank, Ruby, and Sasha, are just a few of the musicians with whom Jesse Jagz has worked with. After releasing his first studio album, "Jag of All Tradez," in 2010, he took a break from the music industry in 2011 and 2012 before making a comeback in 2013 with a reggae-influenced sound.
Although Jesse Jagz predominantly creates hip-hop and reggae, his music also contains aspects of other genres. He uses a variety of instruments, auto-tunes, and echoes in his music. Jesse Jagz released Garba, a 5-track extended play with the same name as his family's traditional surname, on May 29, 2020. With the aid of Misty and Geekbeatz, he produced it. The EP comprises collaborations with Anchorman and Mr Murph and is a blend of Afropop, trap, hip-hop, and folk music. Garba received a 6.8 out of 10 rating from Motolani Alake of Pulse Nigeria, who praised the film's quality and said it "beautifully sells Jagz's narratives with natural honesty and storytelling." Jesse Jagz, on the other hand, came under fire from Alake for letting the EP focus more on "lyrical brilliance and storytelling" than "an out-of-body aural experience."
Personal Life
Jesse Jagz is the younger brother of Nigerian music artist and producer M.I. Abaga. With singer Ruby Gyang, he has a daughter. He married his girlfriend, Tolu, in July 2020. In Jos, Plateau state, a private ceremony was arranged for the wedding.
Controversy
Although he left Chocolate City because he was unhappy with the way the label was managing his career, Jagz has remained friendly with his former label mates. Jesse Jagz gave notice that he was leaving Chocolate City. He later started his own music label, Jagz Nation, in 2012. He then denied having a problem with the label, saying it "was just a business move."
According to an online source, Jesse was charged with marijuana addiction and being in serious debt to the record label Chocolate City. Jesse was reported to have said he sees nothing wrong with the use of marijuana. He said, "'I do not see anything wrong with weed, just the same way I do not see anything wrong with money or women. I just think anything done in excess is bad. However, if I have never married before, I cannot say anything about marriage whether it is right or wrong. It is about someone else's life. "
He returned to the record label in 2015, where he released his Garba EP, but left again after a year.
Discography
Studio Albums and EPs
Jag of All Tradez (2010)
Jagz Nation, Vol.1. Thy Nation Come (2013)
Jagz Nation Vol. 2: Royal Niger Company (2014)
Odysseus (2017)
Garba (EP) (2020)
Compilation Albums
The Indestructible Choc Boi Nation (with Chocolate City) (2015)
Selected Songs
Blessings
Jargo
God on the Mic
Bad Girl
Nobody Test Me
Pump It Up
Wetin Dey
Redemption
Burning Bush
Africa
Bend Down Low
Sugar Cane Baby
Pump It Up
Nobody Test Me
The Son of Abaga
Murder Dem
3rd World War
Body Hot
Awards and Nominations
Most Top Ten Hits on Cool FM 2007.
Best Dance Single – "Bend Down Low
2008 Producer of the Year (Hip Hop World Awards 2009)
Producer of the Year (The Future Awards, 2009 and 2010)
Lyricist on the Roll for "God on the Mic" 2014
Best New Act of the Year 2010
Jesse Jagz Net Worth
He has an estimated net worth of $2 million.
Social Media Handles
Instagram: jessejagz
Twitter: @Jessejagz