Omorinmade Anikulapo-Kuti (born 26 September 1995) professionally known as Made Kuti is a Nigerian afrobeat singer, songwriter and multi-instrumentalist. He is the son of the legendary Femi Kuti, and the great sage and father of afrobeat, Fela Anikulapo-Kuti. His debut album For(e)ward was released in 2021.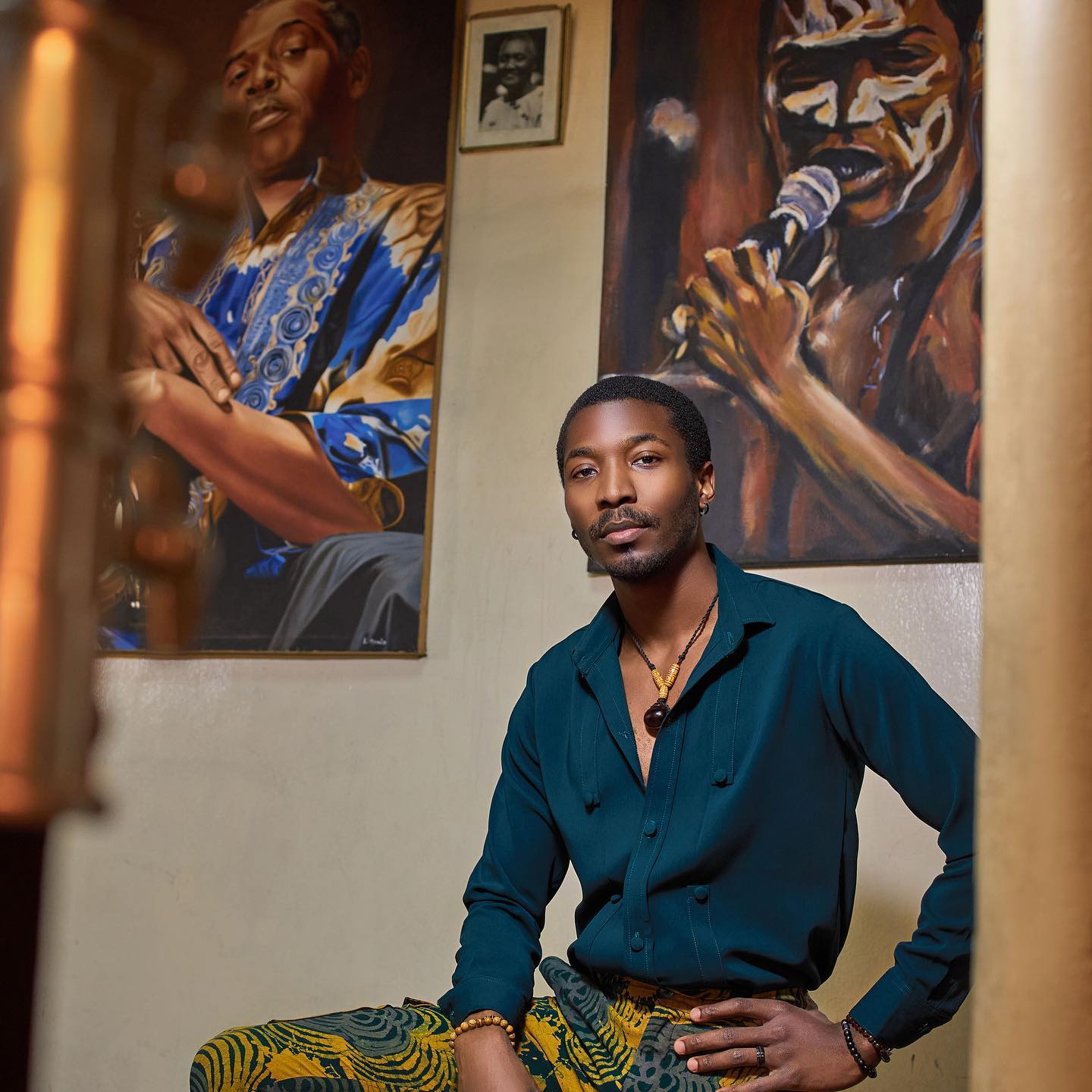 Made Kuti Biography
Full Name

Omorinmade Anikulapo-Kuti

Stage Name

Made Kuti

Date of Birth

September 26, 1995

Nationality

Nigerian

Place of Birth

Lagos State, Nigeria

State of Origin

Lagos State, Nigeria

Alma Mater

Trinity Laban Conservatoire

Occupation(s)

Afrobeat, singer, Songwriter, Instrumentalist

Genre

Afrobeat

Parents

Femi Kuti (Father), Funke Kuti (Mother)

Relatives

Funmilayo Kuti (Great-Grandmother), Fela Kuti (Grandfather), Seun Kuti (Uncle), Yeni Kuti (Aunt)

Instrument(s)

Trumpet, Alto, Sax, Piano, Drums

Net Worth

$2 million

Social Media Handles

Instagram: madekuti
Twitter: @madeakuti
Early Life and Education
Made Kuti was born on September 26, 1995, to Femi and Funke Kuti in Lagos State, Nigeria, and was also raised in the New Afrika Shrine. He began playing the trumpet at the age of three and went on to learn how to play the alto, sax, piano, and drums throughout his childhood. He attended CTC primary school and Beehive school for his primary and secondary school education before proceeding to Fela Kuti's alma mater, Trinity Laban Conservatoire, in London.
Career
Made Kuti began his musical career with his father's band, Positive Force. He began his musical career as a young child by playing bass and saxophone in the ensemble. At the age of 8, he began travelling with the group. In October 2020, he released his first song, "Free Your Mind."
His solo first album, For(e)ward, as well as a double album with his father, Femi Kuti, titled Legacy+, were both released. Sodi Marciszewer, a former collaborator of Fela Kuti, produced the album, which was distributed by Partisan Records. The album's opening 10 tracks, Stop the Hate by Femi Kuti, is followed by its final 8 tracks, For(e)ward by Made Kuti.
Delphine Desane's portrait of Femi and Made Kuti serves as the book's cover image. An album critic for Pulse Nigeria gave it a 7.7 out of 10. It has been said that his music is a fusion of jazz, highlife, rock, and reggae.
At an event called "An Evening with Made Kuti," which he hosted at Lagos' Terra Kulture Arena, Made Kuti introduced his band, The Movement.
Personal Life
He is the grandson of afrobeat pioneer Fela Kuti and the son of Nigerian afrobeat musician Femi Kuti. Much is not known about his relationship and his lifestyle beyond his musical career. He is said to be married to Inedoye Adanne Onyenso, a fashion and swimwear entrepreneur.
Advocacy
Made Kuti maintains a well-informed mind and uses his capacity to conceptualise the world through music, in addition to having had his musical abilities appropriately inspired by a childhood spent inside the walls of the legendary New Afrika Shrine established by his grandfather. Recently, Made also voiced his strong support for the anti-police brutality demonstrations that took place in Nigeria, which prompted the government to dissolve SARS (Special Anti-Robbery Squad), a notorious division of the nation's police force. Even Made and his father (Femi Kuti) took to the streets earlier this week.
Discography
Albums
Singles
Free Your Mind
Stand Tall
Different Streets
No More Wars
Young Lady
Blood
Hymn
We Are Strong
Your Enemy
Land Grab
Biri
Stop The Hate
As We Struggle Everyday
Cherry Mango
Awards and Nominations
| Year | Award | Category | Work | Result |
| --- | --- | --- | --- | --- |
| 2022 | Grammy Awards | Best Global Music Album | Legacy+ | Nominated |
Made Kuti's Net Worth
He has an estimated net worth of $2 million.
Social Media Handles
Instagram: madekuti
Twitter: @madeakuti