Olorunyomi Omoniyi Makun, professionally known as Yomi Casual, is an A-list fashion designer and fashion brand in Nigeria. He has won over 30 awards, which include the Lagos @50 Hall of Fame Award for Excellence. He is the younger brother of popular comedian, AY (Ayo Makun).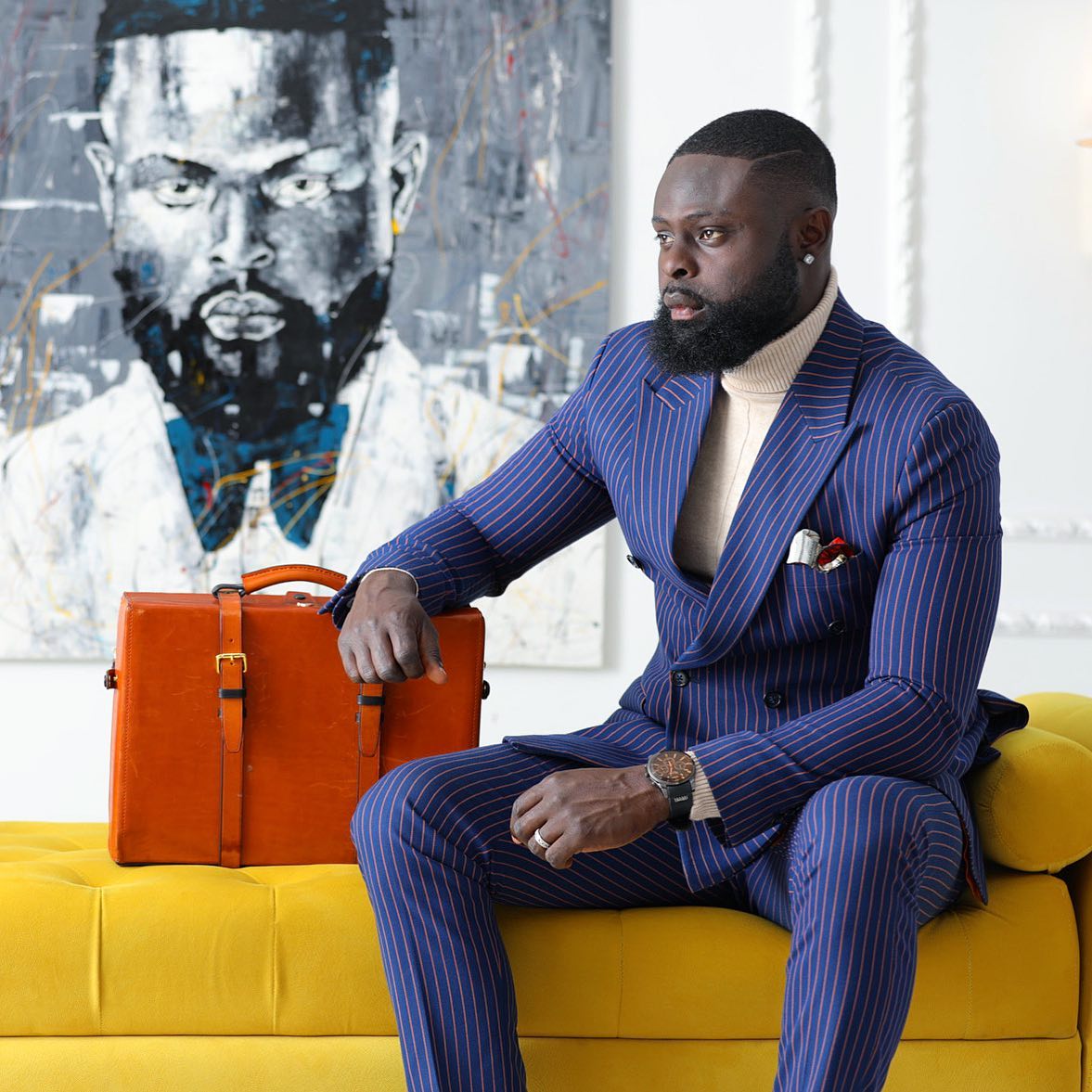 Yomi Casual Biography
Full Name :
Olorunyomi Omoniyi Makun
Date Of Birth :
January 25th 1985
State Of Origin :
Ondo State, Nigeria
Place Of Birth :
Lagos State, Nigeria
Occupation :
Fashion Designer
Social Media Handle :
Instagram: yomicasual
Twitter: @yomicasual
Early Life and Education
Yomi Casual was born on January 25, 1985, in Lagos, Nigeria. He is the last of the Makun family's seven children. He is from Ifon in Ondo State, Nigeria. He had his primary and secondary school education in Lagos State also. He graduated from Auchi Polytechnic in Edo State, Nigeria with a diploma in fashion design and clothing technology.
Career
Omoniyi Makun is the company's founder and CEO, Yomi Casual. When the fashion line first debuted in 2007, he quickly made it onto the list of top fashion designers thanks to his daring and cutting-edge creations, which made him a favourite among African and Nigerian celebrities. Yomi Casual is a label that specialises in African design, especially cut-to-fit African designs that are intricately textured and designed to stand their clients out in style.
He has an enviable record of attracting captains of industries, businessmen, socialites, and politicians in Nigeria, Ghana, South Africa, and other parts of Africa. The celebrities that patronise the Yomi Casual Polish designs are Alibaba, 9ice, AY, Desmond Elliot, Majid Mitchell, JJ Okocha, Sammie Okposo, Timaya, Chidi Mokeme, Chioma Chukwuka, Seyi Law, Bovi, Uti, Alex Ekubo, Ramsey Nouah, Zack Orji, Uti Nwachukwu, DJ Jimmy Jatt, Ebube Nwagbo, IK Ogbonna, among others.
The award-winning 30 Days in Atlanta, a film shot in Atlanta, Georgia, and Lagos, Nigeria, highlighted the company's clothing. AY Live Comedy & Music Concerts and Shift Celebrity Prayse, a yearly Thanksgiving event for all Nigerian celebrities, are both official clothing partners of Yomi Casual.
Yomi Casual has been showcased in fashion exhibitions held in Nigeria and the UK, such as Native Vogue International Fashion Week, which took place in Port Harcourt, Nigeria. The award-winning African fashion company, Yomi Casual brand, has been highlighted in fashion shows in the UK and Nigeria. Yomi Casual was showcased during the Native Vogue International Fashion Week in Port Harcourt, Nigeria; the Arise fashion show; the AFD fashion show, Atlanta; and Glitz Africa fashion week in Ghana.
Personal Life
Yomi Casual married Grace Makun, nee Onuoha. She is the CEO of Fab Jewels and has been his girlfriend for a long time. They got engaged on July 9, 2017, at the Funnybone Untamed II comedy display in Eko Hotel & Suites. He had the DJ play the Styl Plus hit song "Olufunmi" as he knelt down on one knee and proposed to his girlfriend as his longtime friend and Nollywood actor Gbenro Ajibade handed him the ring.
The couple got married in October of the same year, and they currently have a child together – Kahley Makun, who was born in January 2018 in Atlanta, U.S.A.
Controversy
Yomi was involved in a baby mama incident a few years back. Yomi's ex-girlfriend was believed to have supported him during his formative years as a designer, but she was left behind when he rose to fame.
It was also disclosed that Yomi twice caused her to become pregnant. He tricked her by purchasing her a car and pledging to marry her when the baby was born, but he never did, after she lost her first pregnancy twice.
Awards and Nominations
Yomi Casual has won over 30 awards, which include the Lagos @50 Hall of Fame Award for Excellence. Some of the awards Yomi Casual has received are the following:
In the year 2014, Yomi Casual was recognised as the winner of the Inspiration Excellent Award.
In 2011, he won fashion designer of the year at the Nigerian Youth Merit Awards.
In 2011, he was honoured as the City People's Hottest designer for the year.
Also being recognized with the Effizzy Awards newest designer of the year
In 2012, the Dynamix All Youth Awards also recognised him as the designer of the year.
Vconnect Award of Merit, 2012.
Cynosure magazine's acknowledgement award in the year 2013.
Exclusive impact magazine fashion designer of the year, 2014.
Peace ambassador nomination for the year 2014.
The award for inspiration for excellent service, 2014.
Net Worth
Yomi Casual has influenced top brands like Tecno mobile, Heineken, Belaire champagne, South African tourism, and Dubai tourism. He is estimated to be worth around $5 million.
Social Media Handle
Instagram: yomicasual
Twitter: @yomicasual